Here is an essay on 'Rural Economy' for class 9, 10, 11 and 12. Find paragraphs, long and short essays on 'Rural Economy' especially written for school and college students.
Essay on Rural Economy

---
Essay # 1. Introduction to Rural Economy:
Rural economy in India has been witnessing a dramatic and explosive growth, almost twice that of the urban economy and marketers of products and services are seized both of the opportunities and the challenges of rural marketing. It is apparent that transposing the urban mind-set to the rural context will not work and innovation and customization are the strategies to be adopted for reaching the rural markets.
The opportunities in rural markets are immense. Rural India is home to nearly 41% of the country's middle class and 58% of total disposable income as reported by National Council for Applied Economic Research (NCAER). The number of middle income and high income households in rural areas is expected to increase to 111 million by 2007. It is obvious that any organization, be it a manufacturer of goods or a service provider such as bank, has to effectively exploit this market segment for sustained future growth.
However, to be able to succeed in tapping this huge rural consumer segment, it is necessary to understand the distinctive features of this economic class. A low per capita income, highly dispersed nature of the market, low literacy levels, widely variable incomes, inadequate infrastructure for storage, transportation and communication and strong cultural bias are the unique features of this market.
Thus, the nature of the products/services aimed for these markets have to be customized in size, packaging, appearance and price. The delivery/distribution channels too have to be suitable modified to cater to the dispersed and highly price sensitive rural markets. Promotion of products will have to be tailored though innovative and low-tech 2 rugged solutions to reach this target group.
Development of a brand in these markets will have to rely more on symbols and colour-coding. Within this framework, marketers have to ensure that the consumer is assured of value for money. The widely varying income levels in the rural markets are both a challenge and an opportunity. Marketers have to address each income segment differently with customized products.
The challenge in reaching these markets is to provide goods/services of the same quality as is available at urban outlets but at a lower cost which means the production costs have to be reworked and the efficiency of the entire system has to be vastly improved to bring down costs.
Further, unlike in the urban market, where the growth in the economy creates demand for credit, in the nascent rural markets, a supply-leading approach has to be adopted whereby availability of credit will spur economic growth leading to increase in income and purchasing power.
Thus rural marketing involves designing innovative and context-related business models, which are low in cost, dynamic and responsive to local needs and provide value for the rural consumer. The role of technology in providing low cost solutions cannot be ignored. If the efficiencies of the urban market have to be provided in the highly dispersed rural markets, technology will have to be used innovatively to bring down costs. The emerging role of SHGs, in providing a sustainable delivery/distribution network is another initiative which needs to be fully explored.
Essay # 2. Banks Role in the Rural Economy:
State Bank of India was born out of a felt need for increasing the share of institutional credit in the rural economy, thereby mitigating the financial hardships of farmers who depended on credit obtained at usurious rates of interest. Much has been achieved in this direction but much more remains to be done to bring down the cost of credit in the rural economy by making available need based and timely credit at cheaper rates.
The report dated 30th June, 2004, submitted by the Advisory Committee on flow of credit to Agriculture and related activities from the Banking System under the Chairmanship of Shri VS Vyas observed that the level of agricultural credit from commercial banks stood at Rs.85000 crores up to March 2004 and only 7 commercial banks met the target of 18% of the net credit outstanding to agriculture. This is despite the share of commercial banks in rural credit going up to 35% from 2% in 1970-71.
The report states that the pace of development of agriculture and allied activities needs to be accelerated for which credit is a critical facilitating agent. The risk in providing credit to the rural customers is higher due to various factors such as adverse weather conditions, insufficient water, poor quality of inputs and inadequate shortage and marketing mechanisms.
The cost of risk mitigating systems such as insurance and pricing of credit cannot be fully passed on to the borrowers who are mostly in the small and marginal category barely subsisting on their incomes. The report suggests that this is a cost which needs to be borne by the state and central governments.
The recommendations of the Vyas Committee which have been accepted by RBI for implementation by commercial banks included the following:
1. Conversion of wasteland (24.5 mn Ha) and fallow land (16.6 mn Ha) into cultivable land through long-term development initiatives to be taken by the banks and the state governments.
2. Use of SHGs/NGOs and other voluntary bodies in rural areas as direct selling agents/local help to bridge the information gap.
3. Introduction of low cost ATMs in rural areas for cash transactions and use of IT in rural areas.
4. Proper appraisal of loan proposals and post-disbursement supervision will reduce the risk costs.
5. Contract farming is an emerging opportunity for assisting the small and marginal farmers in marketing their produce at remunerative prices.
Banks are required to support these initiatives. In addition to the above, the emerging opportunities in the rural sector provide ample scope for business development in the rural sector. The bank has recognized the extent of this business which is both necessary and profitable for the bank. An exclusive strategic business unit has been formed at the corporate centre for the purpose. Slews of products aimed at the agricultural sector for direct farming as well as for allied activities have been designed.
These products include not only the traditional production (crop) loans but also investment credit for farm mechanization, minor irrigation and water management systems such as drip irrigation, rural godowns, transportation, cold storages, produce marketing loan, loans to commission agents, tissue-culture labs, horticulture, floriculture, dairy farming, poultry farming, hatcheries, agro-processing industries, agribusiness clinics, cyber-cafes (internet kiosks), etc. In short, the bank is involved in providing credit through the value chain from the farmer to the consumer.
On the staff, front agriculture graduates have been recruited as marketing and recovery officers to assist the rural branches in achieving the bank's goals in rural credit. Officials have been posted in regions exclusively to lead the marketing teams in their efforts. Finance is being provided to SHGs in a big way to accelerate the growth of rural credit. Thus, the bank is fully geared to fully exploit the business potential emerging in the rural sector and meet the targets set for the bank by the government.
Essay # 3. Overview of Indian Agriculture:
Agriculture in India has witnessed a gradual transformation from subsistence farming of early fifties to the present intensive agriculture contributing 22% of GDP. "The Green Revolution" enabled transformation of the country from 'begging bowl' status to that of 'self-sufficient', warding off threat of famines and ushering an era of rural prosperity.
This quantum jump became possible essentially due to introduction of new technology, willingness of the Indian farmer to take risks, and the development of extensive agriculture marketing infrastructure and thereby dramatic increase in the yields of input responsive high yielding varieties. The rail network, roads, assured marketing and remunerative prices for food grains-guaranteed by minimum support prices (MSP) played an important role in this development.
India is still predominantly an agricultural economy. Wheat and rice, two main crops responsible for the green revolution, have reached the highest production levels possible under the available technology, leading to stagnation in growth, if not decline, in few pockets of the country. This has led to a climate of despair among farmer families and policy makers, as still there exists a large gap between the productivity at the national level compared to those achieved at global level.
India's populace still faces widespread malnutrition and hunger even after 50 years of independence. UNO studies reveal that 5000 children die every day in India because of malnutrition. The annual per-head availability of food grains in India is only 174 kg as against 304 kg in China. Statistics also indicate that India would be a net importer of food grains in future if we do not increase our productivity.
Agriculture Scenario in India:
Population ― 1.1 billion plus
Cropped area ― 143 million hectares (net)
Cropping intensity ― 135%
Irrigated area ― 40% of cropped area
No. villages ― 0.63 million
Average farm holding 1.55 ha
Food grains production ― >200 million tones
Average farm productivity ― 1.6 tones/ha
Fertilizer consumption ― 13 million tones
Fertilizer usage ― 98 kgs per ha
67% of farmers depend on rain fed farming and 42% of food grains come from rain fed farming. India ranks high in area and production of many crops. However, productivity-wise (i.e., tones/ha) even now we are nowhere in the picture, as evident from the Table 21.1. India's position in production and productivity of major crops in the world is given in Table 21.1.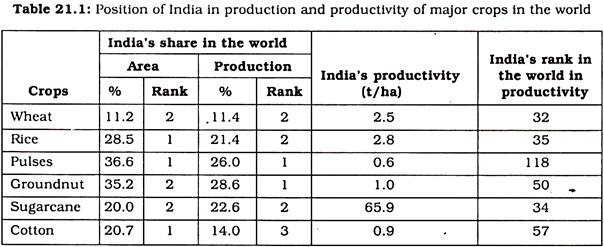 Farming is both a way of life and the principal means of livelihood to 65% of India's population of 110 crores. The average farm size is becoming smaller each year and the cost risk return structure of farming is becoming adverse with the result that the farmers are getting increasingly indebted. A farmer's recent NSSO survey revealed that nearly 40% of farmers would like to quit farming, if they have an option to do so.
The support system needed by farmers like credit is in various stages of disarray. Thereby forcing small farmers to borrow money from moneylenders at high rate of interest, since less than 60% of the credit requirements of farmers is met by institutional sources. Farmers' several factors including debt to private money lenders at high rate of interest, soaring input cost, low output prices. The farmers need to be rescued from spirit of despair and doom.
Essay # 4. Development Banker-Roles Redefined:
During the era of Green Revolution, as consequence to the legendary nationalization and branch expansion policies, banking system has successfully provided the much required credit flow to the agriculture sector to make the national mission a success. However, subsequently the flow of credit to this sector has acquired a routine nature lacking innovations. Despite the priority sector status, banks have been continuously lagging behind in achieving their national targets.
As the gap between demand and supply of rural credit is very large, Reserve Bank of India introduced an obligatory credit allocation by all commercial bank to priority sector (40%) which includes most of the lending to rural and small enterprises.
The time has come that the bankers think of agriculture finance not as mundane crop loan and development loans but as a profitable proposition through integration of agriculture industry and trade. The modern day agriculture banking should invest in capital intensive projects of controlled climate production technologies to produce desired quality produce, by post-harvest treatment facilities including grading, standardization, packing, value addition and branding for development of agri-retail chains and export oriented production and marketing.
In the era of second green revolution, agriculture has to be renamed as agribusiness and for a banker it has become an integration of mass and class banking through quality lending approach by targeting creamy layer of priority sector like big farmers growing commercial crops.
Some of such avenues that banker can look forward to are:
Green house farming and controlled atmosphere cultivation for off season production of fruits and vegetables as well as production of market demand oriented specific quality produces. The activity commands heavy capital investment and is specifically market driven or export oriented and is therefore a profitable avenue for the bankers.
1. Biotechnology, embryo transfer, artificial seed production, micro-propagations, tissue culture of fruits/flowers/vegetables and horticulture nurseries at location where demand exists which in turn is the input for high-value crop cultivation and is a highly capital intensive activity with assured returns.
2. Scientific storage and transport facilities including establishment of rural godowns, gold storages, transport chains including the refrigerated vans and precooling centres for efficient quality management of the fruits and vegetables which has to act as support system for the market oriented production and needs a heavy investment requirement.
3. Value addition chains including food processing units catering export market or the domestic market are the result of change in food habits where the perishability of the food products is overcome to have a regular and more hygienic supply of products to market. The value addition units are the integration of agriculture with industry and are the future of the agriculture postproduction management.
4. Commercial dairying including establishment of milk bulk chilling and processing units with more emphasis on the value added products of milk.
5. Agriculture retail chains are the upcoming concept of integrating agriculture with trade catering the upwardly affluent society with the choicest of agriculture commodities with or without branding at a premium prices.
6. Contract farming comes as an integral part of the value addition and agri-retailing wherein the farmer is contracted to plant the contractor's crop in his land harvest and deliver to the contractor, a quantum of produce, based upon anticipated yield and contracted acreage at a pre-agree price.
7. Contract farming is viable proposition for small and marginal farmers, who are otherwise left out in the market driven economy to get the benefits of the same. In addition to getting exposure to the latest production technologies, farmer is hedged against the price risk. Contract farming also provides a win-win situation for the banker who can mobilize bulk level of production credit to large number of farmers with assured repayments at lower follow-up costs.
Since ages, Indian economy has been an agricultural economy. Majority of our population are dependent on agriculture for their basic needs. At the time of independence, India was not self-reliant in cereal crops production and depended on imports and this condition continued till 1966-67 leading to crisis in foreign exchange reserves and balance of payments. The foreign debt increased manifold. The green revolution gave fillip to Indian agriculture from 1966-67 and consequently, Indian production of food grains especially that of wheat and rice increased sharply.
In India, even after 56 years of independence 64% work force is engaged in agriculture, which contributes to about 24% of GDP. Total export of agricultural products (including marine products) during 1999-2000 has gone up to US $ 37.5 billion. However, India's share in world trade in agricultural commodities is less than 1%.
---